Relative insanity: A Party Game or A Family Game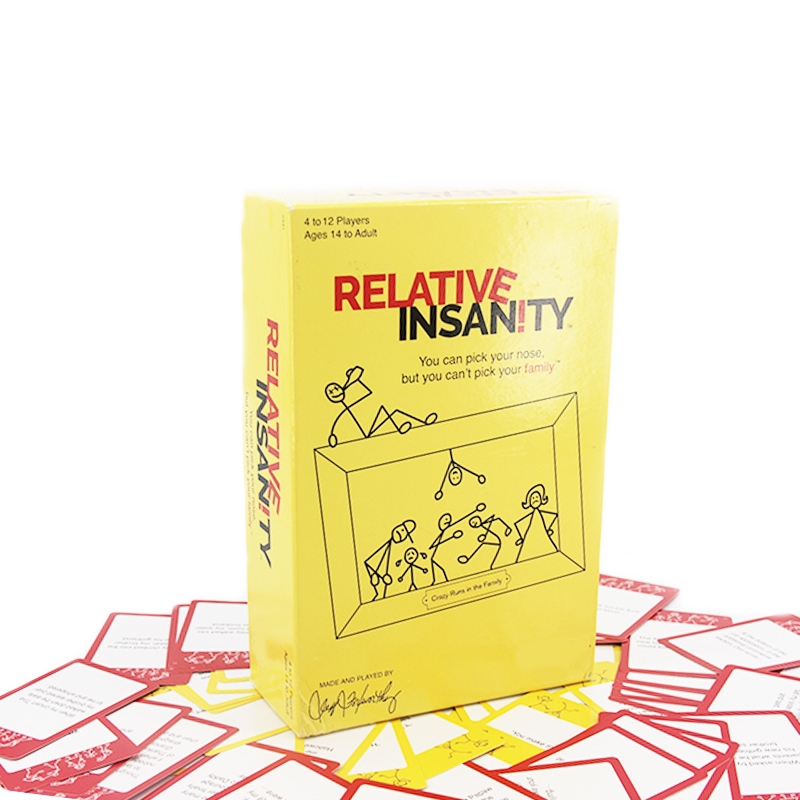 'I created this game with laughter in mind, and it was inspired by the insanity of my family and friends!' said Jeff Foxworthy who is the original creator.
Multiplayer games always fit the tag of a family game and party game. But in the content of these two types is different which mean one tend to warm and laugh phenomenon and another need crazier and even violent, bloody or pornographic elements to raise the atmosphere. The measure of game content is the main point for the most player to choose the game to play in a specific place or with straightforward people.
If you want to play with family, I can recommend this game. If you want a game to warm up a party, I'd like to recommend it as well. RI is a well-adaptation game by its neutral but funny content. Whoever you are, newbie or senior, teenager or elder, you can try this simple rule game in all kinds of occasion.
How simple the rule is. There are two kinds of the card which named setup card and punch line card showed in the picture as red and yellow. A rotating judge should be elected and rotated who can read a setup card loudly. For example, I can select random right now like 'My cousin Joe showed us a naked picture of his wife on his phone and the only thing I could think to say was…….'. Then every participant chooses a punchline card they think it best to connect the phrase and show or read it too. For example, I select now, 'the chickens are back in the house' or 'You've stopped taking your medication, haven't you? ' and so on. Judge choose one answer that he thinks it funniest to get a point.
As a language trend game, it is no doubt that has a restriction on culture and context. Different culture and context derive a diverse sense of humor. Therefore I recommend the player whose mother tongue is English to try it more rather than all people.
Date:03/15/2019